Yesterday it finally happened: I received that one piece of paper that says that I am now a Master of Science in Computer Science!
Of course I've been done for a while now, but now that that final formality is done it feels much more final. It's weird to think that now, I'm really not a student anymore. Of course, since I'm staying at University to work and will continue in the academic world (as you know, hopefully in Japan) it's not as weird as I imagine it would've been if I would've left University for ever and went to a "real" job now. But it's still weird.
The proof is in the pictures: here I am after just having received my degree from Professor Wijshoff (whom I'm shaking hands with).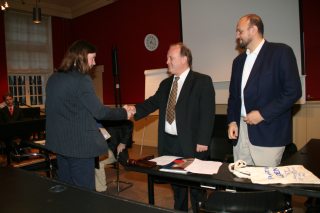 So today, I can officially call myself Master of Science. Or if I so choose, I can use the old Dutch title "Doctorandus" as well (that would make me Drs. Sven Groot).
And to add to this, today is my 25th birthday, so it's a double party. I already had some people over this afternoon, and I'm expecting lots more this evening.
It's strange to think that last month, I was still working on finalising my thesis, and now I'm done. It's even stranger to think that if things go well, I'll be in Japan in less than six months. And it's strange to think that I've been alive for a quarter century already.
Strange, but good. :)