October 1st was the start of the winter semester here in Japan, and next week Japanese courses will begin again, which I have decided to continue.
I decided that this was the perfect occasion for an update to Pocket Dictionary. Besides some bug fixes and performance improvements, there are two features in particular that I wish to highlight.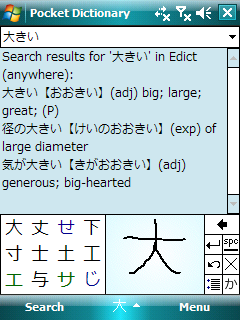 The first is the ability to download and update dictionary files from within the application. This comes in two flavours: when you first start Pocket Dictionary 1.1, a configuration wizard will ask you which dictionaries you wish to configure, and afterwards it will download these dictionaries for you. This means the tedious task of copying dictionary files to the device using ActiveSync and setting them up manually is no longer required. Additionally, you can go to Menu, Dictionaries, Check for updates at any time and it will check if updated dictionary files are available, and if so, download them.
The second feature is the improved formatting of search results. In Pocket Dictionary 1.0, what you saw in the search results was the raw entry from the dictionary. For Edict, such an entry might look like this:
本 [ほん] /(n) (1) book/volume/(pref) (2) main/head/this/our/present/real/(ctr) (3) counter for long cylindrical things/(P)/
In Pocket Dictionary 1.1, the results are reformatted which leads to a much nicer display:
本【ほん】(n) (1) book; volume; (pref) (2) main; head; this; our; present; real; (ctr) (3) counter for long cylindrical things; (P)
Something similar is done for Kanjidic, and there it can now also filter out the numerous information which you're not likely to need most of the time.
Like the previous version, Pocket Dictionary works on Windows Mobile 2003 and up, and requires the .Net Compact Framework 2.0 Service Pack 2.