One of the nicer consequences of me passing the exams is that my research lab at University would provide with a new laptop. They'd already given me an old Panasonic to get me through the intervening months, but now that I'm a real student at the lab, they can afford to get me new stuff.
Based on Internet reviews I chose the Dell XPS M1330. Today, it arrived.
The pros: unlike your regular Dell laptop, this one looks extremely cool. The 13.3" widescreen WLED screen is fantastic. I like the keyboard so far (it's not gotten any real workout though). It has a fingerprint reader which is just plain cool (when Windows shows the welcome screen I just scan my finger and it logs on). Vista runs great on it, it's very fast, but with a Core 2 Duo T7500 (2.2GHz) and 2GB RAM, what do you expect? I also specifically picked the optional 7200RPM hard drive because I hate the usual slow laptop hard drives.
The cons: it's heavier than I expected. Maybe I've gotten spoiled by the Panasonic which weighs nothing. It's not super heavy but it could've been better. The edges around the screen are rather wide, without those the laptop could've been much smaller. It has only two USB ports. Dell installed the usual amount of crap on it that I had to take some time to remove.
One interesting thing is that Dell Japan didn't offer an option for an English version of Windows (especially weird since they did offer an English keyboard layout). But they did offer an option to get Vista Ultimate for a relatively small amount of money (which I didn't have to pay anyway :P ). So I got that and then used the English language pack available through Vista Ultimate Extras to turn the UI to English, which works great.
So overall I'm very pleased. But then again, since I've just gotten a great laptop for free, why wouldn't I be. :)
In just a few years, this will be me!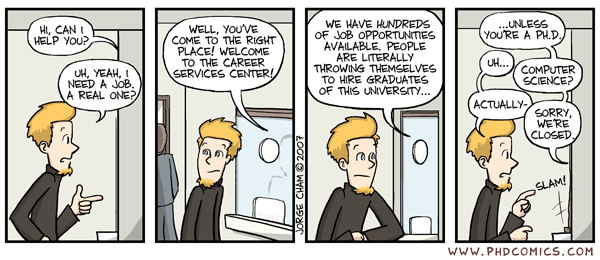 Go read PHD Comics! Recommended by leading experts as the number one way to procrastinate when you should be studying. :-P
If you know anything about anime, you probably know Neon Genesis Evangelion. Evangelion is said to have revitalised the anime industry when it first came out in 1995. It is also well known for its deep psychological themes, religious undertones and incomprehensible ending. As such, it's probably also the most over-analysed anime in history. :-P
Anyway, somebody thought it'd be a good idea to remake the TV series into a series of movies, with updated animation and computer graphics (the budget for the original series was very small so it suffered from low production values at some points), as well as some plot changes. The first of what will be four movies premiered in Japan on September 1st.
As an anime fan, I have of course seen Evangelion, and I thought these movies would be interesting to see in the theater. Of course, Japanese theaters are not in the habit of putting English subtitles on Japanese movies, so considering my current level of Japanese, that'd pose a problem. But I went to see it anyway. And I must say, I was impressed. The updated animation was great (while still retaining the style of the original Evangelion), and the sound was fantastic! The version of Eva I saw, the platinum edition, already had an updated 5.1 surround mix (the original 1995 series had a mono soundtrack), but this movie blows it away. Lots of good use of the surround and LFE channels during the battles. Just hearing that on a big sound system made it worth seeing in the theater.
As for the dialogue... I could understand about half. It definitely helped that I already knew the plot. Hopefully when the second movie comes out sometime in 2008 my Japanese will be better. But still, it was a very cool movie, and I definitely don't regret going to see it.
For those interested, a trailer.
Tonight, Typhoon Fitow passes over Tokyo. This Typhoon is classified as strong and has maximum wind gust speeds of up to 55m/s (198km/h). The real heart of the storm is not even over this area yet and the weather is already pretty intense. Lots of wind and occasional heavy rain (getting more frequent in the past hours). The bulk of the storm should pass during the night.
All flights to and from Tokyo have been cancelled; I'm glad I'm not going anywhere.
Makes me realize how boring the Netherlands is. Earthquakes, typhoons, we have none of that nonsense. :-P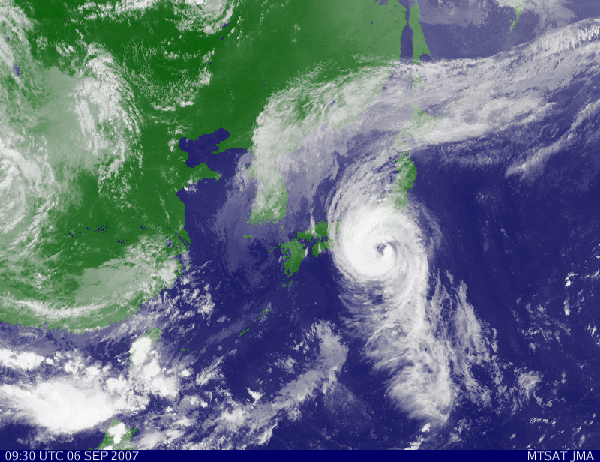 I have some pictures that I hadn't uploaded to the site yet.
The first batch is from yet another visit to Kamakura on August 5th; Danny's friends from Israel had arrived and they were going there so I came along. We also met up with Japanese friend of Danny, Aya. In the evening we went to an Izakaya in Shibuya.
Then there's another picture in the "huge insect" series. This time, a 6cm long dragonfly decided to pay my balcony a visit.
And the last two pictures are from last Saturday, when the people from my lab (and some other lab too) organised a beach-barbecue-fireworks party. That was lots of fun. :-)
Enjoy!